Leah Rae Verde
Posted on
October 11, 2013 at 5:57 PM
Print Article
Today I have my first wheat based treat of this series. Last night when I told my family at dinner that we would have doughnuts for dessert, everyone was super excited. Everyone enjoyed the Chocolate Calas I had made, even my husband. But after saying he liked them he added that he wished we could just have some normal flour for a change. So just for him I made a batch of sprouted flour doughnuts, just a simple buttermilk variety rolled in cinnamon sugar. Simple. Easy. Yummy. Healthier. Yes I do believe that my doughnuts are healthier than the processed chain store variety. To start mine have fewer ingredients, they are cooked in a traditional fat, the sprouted flour is more easily digested, and I choose how sweet I want them to be. In this case most of the sweetness comes from the cinnamon and sugar mix I roll them in. So healthier, yes... healthy as in eat-whenever-you-want-as-much-as-possible, probably not.
Fried Sprouted Flour Doughnuts
1 tsp vinegar (I used apple cider)
1/2 cup whole milk
1 egg from pastured hen
2 TBSP honey
1 TBSP melted butter
1/2 tsp vanilla
2 cups sprouted soft white wheat flour
1 tsp baking powder
dash or 2 of nutmeg and salt
1-2 cups lard (or coconut oil)
Cinnamon and Sugar for rolling
Mix vinegar and milk in a glass bowl (or cup) and set aside while you gather your ingredients. Melt the butter in your toaster oven or on the stove top. Start melting your lard or oil in a deep and narrow cast iron pot (or other heavy bottomed saucepan). When milk and vinegar has sat for about 5 minutes mix milk, egg, honey, butter and vanilla in a mixing bowl (I use an electric mixer to make things easier). Once well combined put dry ingredients on top and combine well. It will become too thick for your beaters to move well (like cookie dough). With floured hands roll into teaspoon sized balls and line up on a platter. Once the oil is ready place the balls into the oil using a long handled slotted spoon. Allow to cook for about 4 minutes, if your oil isn't deep enough you may need to turn the balls over. Remove and allow to cool before rolling in cinnamon-sugar and serving.
Makes about 30 small donut holes
Nutrition per doughnut
73 calories
9g carbohydrates
2g fiber
1g protein
4g fat
3g sugar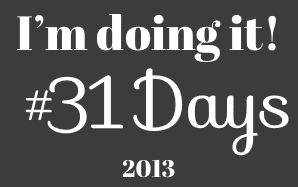 Post a Comment →
tagged
31 Days,
Dessert,
Easy,
Treat,
sprouted flour
|
in
Food Thoughts